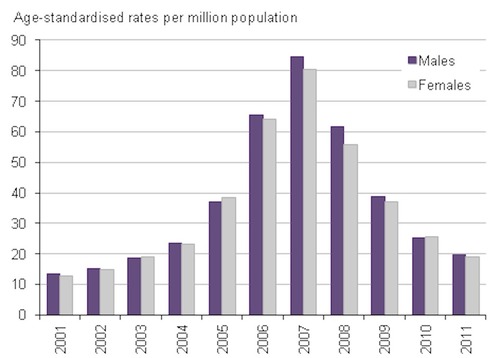 Medical Breakthrough: 100,000 patients a year were dying from hospital acquired infections. Then in 2008, infection rates started plummeting. What brought about the improvement? Technical innovation? Academic studies? New drugs? Better procedures? Improved training? Checklists?
Nope. Hospital acquired infection declined as soon as the US government stopped purchasing them. For 40 years, Medicare and Medicaid paid hospitals for their most harmful mistakes — including causing hospital acquired infections, giving people bedsores, and leaving objects inside patients during surgery.
Then in 2005, a couple MBAs noticed the poor incentive structure. They pointed out that the government was spending $25 billion/yr (out of their $600 billion budget) on healthcare for "secondary diagnoses" — conditions that patients only contracted because they were unfortunate enough to be admitted to US hospitals.
Finally in 2007, the government announced it would no longer pay hospitals for infecting or injuring their patients. Since then, hospital acquired infection rates have been in free fall.
So what actually happened? Studies show that hospital workers began washing their hands again — up to a full 30% of the time! But no amount of abstract knowledge could motivate doctors to stop injuring 1 in every 20 patients until there was no longer a government billing code for "failure".