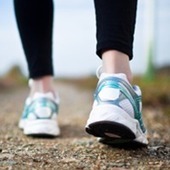 Walgreens wants to incentivize customers to walk more by giving them 20 Balance Rewards Points for every mile they walk with a Fitbit.
I earn $5/mo doing this, but someone actually working out could earn even more. If you've already got a FitBit, it's another straightforward way to motivate yourself to take more steps.
Or you can always rationalize buying a new Fitbit by planning to earn the cost back. You only need to walk a mere 4850 miles.